Venue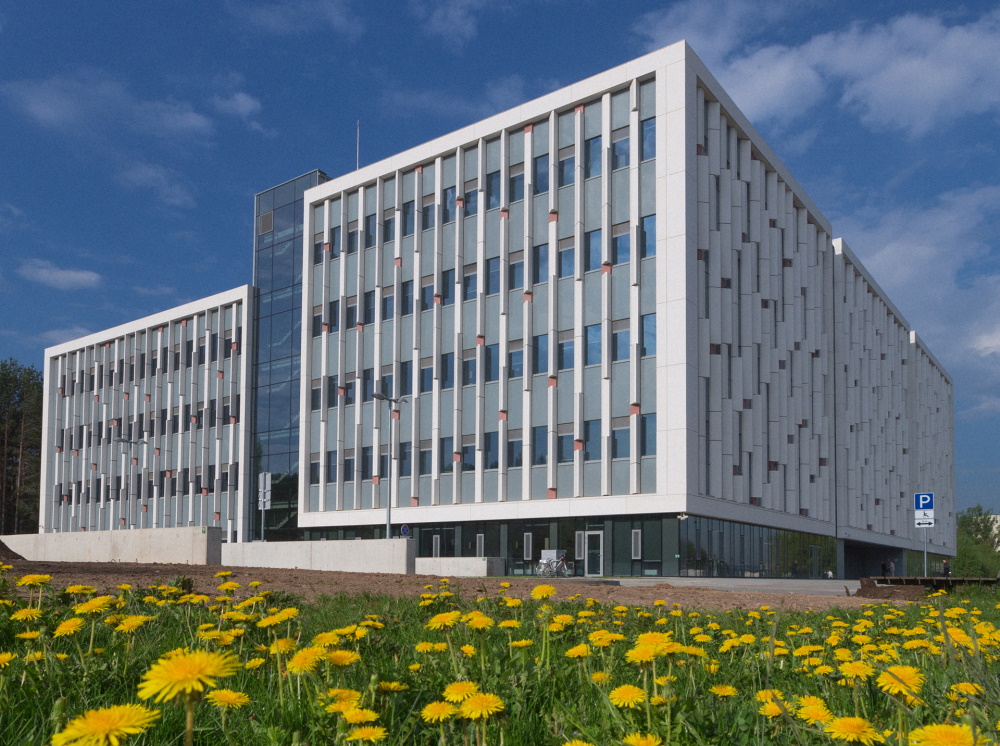 The Conference will be held at the Vilnius University Life Sciences Center (VU LSC) 7 Saulėtekio Ave, LT- 10257 Vilnius
Travel to Vilnius
Vilnius International Airport has direct flights from all major countries in Europe and several in Asia. Direct flights are available from Armenia, Ireland, Austria, Belgium, Bulgaria, Croatia, Cyprus, Denmark, Estonia, Finland, France, Germany, Greece, Georgia (Sakartvel), Iceland, Ireland, Israel, Italy, Latvia, Malta, the Netherlands, Norway, Poland, Spain, Sweden, Switzerland, Turkey, the United Kingdom. Several low-cost airlines also fly there such as Norwegian Air Shuttle, Ryanair and Wizz air.
International bus lines (Ecolines and Lux Express) run direct routes to Vilnius bus station from capital cities such as Riga, Tallinn, Warsaw, etc.
Direct international trains from Warsaw and many opportunities to travel around Lithuania by train are also available. You can find all the routes and schedules here: link.
Access to the venue
Vilnius University Life Science Center (LSC) is located in the northeastern part of Vilnius called Saulėtekis.
It is easily accessible for visitors by public transport:
From Vilnius International Airport (VNO)
Unfortunately, there is no direct bus from the Airport to the venue. However, a one-change journey is just as convenient, because buses run every 10-15 minutes. Even at night bus run every 30 minutes.

From the airport, you can board 3G, 88 or 88N (at night) buses.

There are three options for a change:
- At the stop "Europos aikštė", change to the bus 4G or the trolleybus 19.
- At the stop "Juozo Tumo Vaižganto" change to trolleybus 4.
- At the stop "Žaliasis tiltas" change to trolleybus 10.

To reach the venue you can get off at "Nemenčinės plentas", "Saulėtekis" and "Vilniaus Universitetas" stops.

For more information on public transport from Vilnius Airport and public transport tickets purchase, please click on the following link: link


From Vilnius Central Station
Vilnius Central Station is located at 22 Sodų Str., LT-03211 Vilnius which is about 7.2 km (15 min drive) to the conference venue.
From the Central Station you can board:
- Trolleybus 2 goes directly from the Central Station to the venue;
- Bus 53 and later on stop "Šeškinės kalvos" change to 5G bus.

To reach the venue you can get off at the stops: "Nemenčinės plentas", "Saulėtekis" and "Vilniaus universitetas".


From Vilnius Center
Trolleybuses 2 and 4 run directly to LSC from stop "Karaliaus Mindaugo tiltas". To reach the venue you can get off at "Nemenčinės plentas", "Saulėtekis" and "Vilniaus universitetas" stops.
Public transportation in Vilnius
To plan your trip you can use the mobile app Traffi or m.Ticket (only with a Lithuanian phone number).





In Narvesen shop, Lietuvos Spauda, Maxima and RIMI supermarkets you can buy and top-up Vilnius Resident Card. Vilnius Resident Card's price – EUR 1.50.

Ticket prices:
- 30 min. ticket 0.65 €
- 60 min. ticket 0.90 €
- 1-day ticket 5.00 €
- 3-day ticket 8.00 €
- 5-day ticket 12.00 €
- 10-day ticket 15.00 €
Single tickets can be bought from the bus driver. Ticket price 1 Euro (no discount available, the ticket is valid for one trip, cash only). A ticket is valid only if it's marked on the bus.
You can also buy a public transport ticket using the Trafi app.

More information on ticket purchases and discounts in the "Tickets type and prices" section: link


Accomodation
All discount codes will be sent to you after the registration.